Instruction and Experience
Nordic Walking NA is the collecting point for all things Nordic Walking for education, product, and associations.
Nordic Walking NA offers INWA instruction go to the
instructor page
to find a training near you.
Become a NWNA member and receive discounts on products, trainings, and activities along with receiving the NWNA newsletter and the INWA newsletter.
Nordic Walking NA has worked with many of the associations and manufacturers to develop some simple guidelines for education and product choices for Nordic Walking. Below are so simple definitions the steering committee agreed on.
ANWA is the only independent organization promoting Nordic Walking throughout North America. The mission of ANWA is to promote and expand this fantastic sport - focusing on the importance of professional instruction and technique to achieve optimal results. We offer the highest level of training and certification programs available in North America.
Walk With Lindy is a local Fort Myers, FL (USA) area business providing Nordic Walking experiences throughout Lee County for tourists, gated communities, Lee County Parks & Rec and corporate wellness seminars.
Walk With Lindy is the exclusive local retailer for quality LEKI product and rental poles for seasonal Nordic Walking enthusiasts.
Lindy Smith, the "Pole Proprietor" of Lindy Smith LLC is the former marketing manager of the pole company, LEKI USA. Her
fitness industry recognized certification
in Group Fitness and continuing Education Credits are from AFAA and ACE. Lindy is a AFAA trained Golden Hearts, Active at Any Age
®
Specialist.
For more information or to contact Lindy to pitch an idea for working together at your location anywhere in the world, please visit and "like" the Walk With Lindy
Facebook
page or link to Lindy Smith LLC on
LinkedIn
.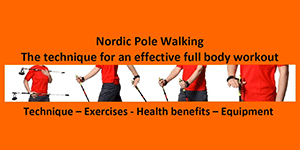 The book "Nordic Pole Walking" will provide you with an uncomplicated and evidence-based introduction of the basic Nordic Walking technique "POLES". Furthermore you will read about health benefits, equipment and a lot of exercises. Enjoy the ideal concept for a full body workout with Nordic Pole Walking wherever you live, whenever you can, by yourself, with friends or in a class in the great outdoors.